Fill in the form and Western Technology will prepare a study according to your needs
Waste To Energy Containers
Our partner has developed a bioenergy system that will help solve our organic and plastic waste problem. Reducing the food carbon print and using green energy.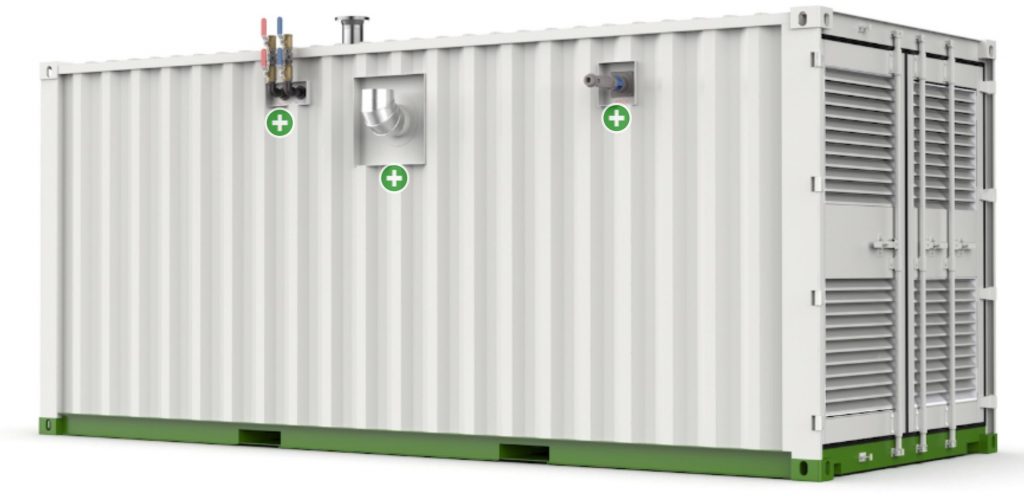 Our partner has developed a bioenergy system that will help solve our organic and plastic waste problem. By simultaneously providing immediate energy and waste disposal cost savings, coupled with significant reductions in harmful greenhouse gas ("GHG") production – this patented system is incomparable to any other system in the world.
Our onsite combined heating and power technology converts almost any organic or plastic waste into reliable, renewable power and thermal energy. Modular and easily transportable, the plug-and-play design of this powerful system allows for quick deployment and onsite mobilization in most places around the world. With 24/7 continuous renewable power, our systems are ideally suited for microgrids.
Transforming the way customers look at waste.
Removing, transporting, and disposing of organic waste is costly. By converting your organic waste into clean energy, Western International transforms your waste problem into immediate cost savings.
We measure this using a specific software that represents the annual financial benefit ($/ton of organic waste/year) of using our technology. Our software varies by customer and location, representing the combined value of reduced waste disposal, on-site power, thermal energy, and carbon credits.
More Than Just Saving Money
Save money.
Gain immediate savings from our unique Energy-as-a-Service (EaaS) partnership model with minimal capital outlay. Reduce costs for: waste disposal, transportation and tipping fees, power, and thermal.
Divert from landfills.
A cost-effective solution to move towards zero landfill goals. Your organic waste and unrecyclable plastics are redirected away from landfills to produce clean energy onsite.
Reduce greenhouse gases.
Each module system eliminates methane gas in landfills, offsets carbon dioxide emissions from fossil fuels and reduces carbon dioxide emissions from waste transportation costs.
Resiliency.
Western Technology provides 24/7 continuous power which can operate in "island or off-grid" mode. The Bio-CHP™ is easily relocated and built to withstand hurricane winds.
Scalability.
Our systems can be installed as a single 75 kW unit or scaled up by grouping multiple units to generate over 2.5 mW of power.
Back-up power.
Our system provides continuous back-up power in the case of grid outages.
Western Technology partners with you to reduce your energy and waste disposal costs with minimal capital outlay. Unlike most other variable energy solutions such as solar and wind, we will install our systems at your facility, using our Energy-as-a-Service ("EaaS") partnership contract structure. Without the need for large capital expenditures, you only pay for the power and thermal energy generated.
Clean, renewable bioenergy solution for your organic and unrecyclable plastic waste problem
Our patented system uses free (or negative cost), locally sourced organics or plastic waste to generate clean onsite energy. Our low LCOE, coupled with our EaaS model, delivers immediate savings on energy and waste disposal costs with minimal capital outlay.
Onsite - Modular - Scalable
Our unit is small-scale, modular and can be rapidly deployed in almost any setting – from a retail outlet in the Europe to a remote, rural village in Africa. The system provides controlled, 24/7 continuous renewable power ideally suited for microgrids. Our system can be installed and commissioned in just a single day, and multiple systems can be installed side-by-side to generate up to 2.5 mW of combined power.
Landfill diversion - Reduced greenhouse gasses
Our system enables you to divert organic and plastic waste from open dumps and landfills. Each system can reduce up to 2,200 metric tons of CO₂ equivalent emissions annually by reducing methane emissions released from landfills, offsetting fossil fuel-based power generation, and reducing waste disposal transportation emissions.
Resilient - Remote monitoring
Our is designed to operate in the humid and salty environments characteristic of island nations, and resilient enough to withstand hurricane-force winds. The system is equipped with a state-of-the-art controller, which can communicate with IoT enabled devices and supports blockchain technology. Each system is remotely monitored from our headquarters, ensuring that every unit is always running optimally.
We can convert almost any organic waste into clean onsite energy.
Partial List of Industry Applications
Hospitality
Industrial
Education
Sports & Entertainment
Recycling Centers
Indoor Growing
Dairies
Food & Beverage
Healthcare
Commercial
Airports
Marinas
Landfills
Military
Waste Water Management
Government / Mission Critical Facilities
Hospitality
With minimal capital outlay, our system is an ideal candidate for the hospitality industry. With continuous electric and thermal demands, we not only reduce operating costs but also offers a unique solution for waste management. Blackouts and intermittence concerns associated with other renewable solutions are eradicated by partnering with us. With an ability to withstand hurricane force winds and function in virtually any environment, Western Technology is a sustainable solution for countless types of facilities such as:
Hotels

Resorts

Large Apartment Buildings
Large Condominiums

Senior Homes

Multi-Unit Municipal Housing
Healthcare
Whether it's a hospital, outpatient facility or medical office building, if the facility has continuous electrical and thermal demands with an organic waste and/or plastic waste stream, an our system is the optimal solution. With minimal upfront investment, significant cost savings are immediately realized. Coupled with substantial reductions in greenhouse gas emissions, this system offers a clean and reliable solution to conventional back-up power systems – and an opportunity to claim government incentives and tax benefits.
Healthcare facilities that can benefit include:
Hospitals
Medical Office Buildings (MOBs)
Nursing Homes
Medical Research Facilities
Outpatient Facilities
Industrial
Lean operations are critical to the robust demands of a modern industrial facility. With minimal capital outlay, our system is ideal for facilities with 24/7 operations, high electrical and thermal load demands, and facilities with stringent waste management protocols. Western Technology not only reduces operating costs immediately, but also offers a unique solution for facilities seeking to lower their carbon footprint and profit from 'green' incentives and tax credits – all without reducing operational efficiency.
Potential industrial applications for our systems:
Electronics Manufacturing
Pharmaceutical Manufacturing
R&D Laboratories
Plastics Manufacturing
Light Industrial
Automotive Manufacturing
Furniture and Wood Manufacturing
Paper and Textiles Manufacturing
Commercial
Smart and sustainable buildings are the way of the future. New multi-use buildings and existing commercial developments looking into repositioning their existing asset can benefit from our system small footprint and pay-as-you-go contract structure. With minimal capital investment, clients are afforded immediate reductions in operating costs, cost-effective solutions to achieve or improve upon existing LEED certification, and an innovative waste management solution to take advantage of local and federal 'green' incentives and tax credits.
Examples of commercial buildings that can leverage our technology include:
Commercial Office Campuses
Commercial Towers
Retail Outlets
Shopping Centers
Multi-use Developments
Education
In an environment where future leaders and innovators are cultivated, it is only fitting to incorporate a clean, reliable, onsite, and cost-effective solution for energy, thermal and waste disposal demands. With minimal upfront capital needed, our scalable solution provides immediate cost savings. By utilizing a sustainable pay-as-you-go contracting model, you harness a low-risk approach to managing the continuous demands of large educational institutions seeking to advance to the forefront of innovation.
Western Technology systems can benefit educational facilities such as:
Large K-12 Schools
Boarding Schools
Universities
Colleges
Dormitories
Large Sports Complexes
Airports
By law, all airports are required to incinerate all international flights' deplaned waste. In addition to delivering a cost-effective solution for lowered electrical and thermal operating costs, with minimal capital outlay – our system also offers an on-site solution for the management of deplaned international waste and significant reductions in greenhouse gas emissions.
Airports
Airline Deplaned Waste
Airline Deplaned International Waste
Sports & Entertainment
Large sports and entertainment facilities typically have constant electrical and thermal loads, and they also tend to have waste streams that serve as an optimal fuel source for our units. By partnering with Western Technology, these facilities eliminate the need for large capital investments to benefit from cost-effective and sustainable solutions that cut emissions and slash operating costs.
These facilities can include:
Large Aquatic Centers
Convention Centers
Athletic Clubs
Health Clubs and Sports Centers
Amusement Parks
Stadiums, Arenas and Ball Parks
Marinas
Cruise ship ports help bolster local economies by docking regularly to allow tourists to visit popular locations and pay for goods and services. In some cases, these ports are located in regions with high energy costs and degraded waste management infrastructure. When cruise ships dock for a port visit, cruise ships transfer some of their waste, such as presorted and compacted bundles of plastic and cardboard waste, to local waste management operators. The majority (approximately 75%) of other waste is typically treated or incinerated onboard.
Enexor can eliminate this wasted opportunity, as the organic waste and recyclables are ideal feedstocks for our units. The waste can be mixed with other local organic waste to provide fuel to cruise ship destination areas, or stops, that are currently battling high energy costs.
Recycling Center
Humans have made over 8.3B tons of plastic since 1950, half of which was produced in just the last 15 years. Over 90% of plastic is not recycled and despite our best efforts – end up in open landfills, or sadly by the truckloads in our oceans. Plastic is a powerful clean fuel source for the Bio-CHP™ as plastic is rich in carbon and hydrogen, which makes the following facilities prime users for our technology.
Material Recovery Facilities (MRF)
Organic Waste Recycling Centers
Energy Recovery Facilities
Refuse Derived Fuel (RDF) Pelletizers
Deinked Pulp (DIP) Producers
Solid Derived Fuel (SDF) Pelletizers
Secondary Material Recovery Facilities (MRF)
Plastic Recycling Facilities
Plastic Reclaimers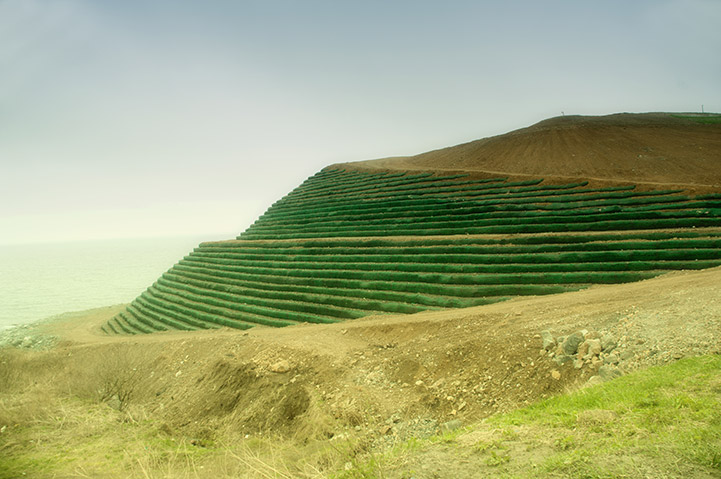 Landfills
Landfills are a vital link in the solid waste management value chain and provide a critical service to our communities. The decline of the traditional recycling market, coupled with the increase in food waste, has caused a dramatic increase of recyclable and organic waste to enter landfills, leading to more methane emissions and wasted value. Additionally, due to heavy regulation, landfills must be located a certain distance from population centers and must also be equipped to manage leachate which is potentially harmful to our water supply.
Both onsite and outsourced leachate treatment and material sorting is capital and energy intensive. The Bio-CHP™'s combined heat and power capabilities provide Solid Waste Managers the solution to cost effectively manage and recover value from leachate and onsite waste.
Indoor Growing
Facilities that promote indoor growing environments have a very high-demand for both thermal and electric power. Furthermore, depending on the products being grown, incineration or other similar forms of disposal are required to properly dispose of bi-products or other plant waste. Enexor's Bio-CHP™ technology offers a on-site solution that delivers energy at a lower operating cost, while also providing a clean and efficient solution for safe and compliant waste disposal that offsets your carbon footprint.
Facilities that could benefit include:
Indoor Grow Facilities
Indoor Cannabis & Hemp Grow Facilities
Greenhouses
Military
Enexor's ability to provide efficient and resilient onsite energy from the customer's own organic waste and other local organic waste streams is an ideal solution for the Department of Defense (DoD) Fixed Installations in the Continental United States (CONUS) or Outside of the Continental United States (OCONUS) facilities, such as:
Military Reservations
Installations
Bases
Posts
Camps
Stations
Arsenals
Laboratories
Forward Operating Bases
Contingency Operating Bases
Dairies
Processing raw milk into a wide array of dairy products consumes a lot of energy and produces a lot of waste. Homogenization, pasteurization, and chilling are power and heat intensive. The Bio-CHP™ unit optimizes the onsite processing of wet organic waste streams to provide power, heat and chilling. The process produces free fuel, while purifying the water from the waste stream can be reused or used for clean discharge.
The resultant sludge waste byproduct from animal waste, fine powders, and additives requires onsite or outsourced treatment. Enexor's Bio-CHP™ optimizes onsite production and waste treatment to provide power and heat to the production process, and heat to dry the sludge, which can then be used as free fuel.
Homogenization
Pasteurization
Chilling
Dairy waste sludge treatment and drying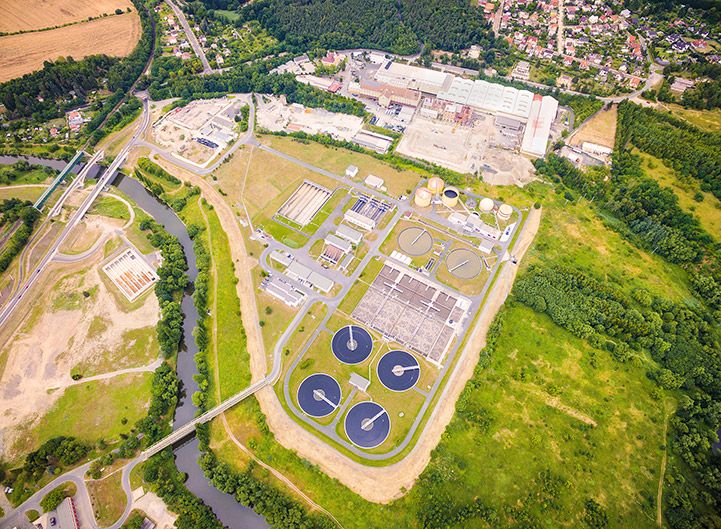 Waste Water Management
Waste water and sewage treatment plants bear the critical responsibilities of providing clean drinking water to our communities and returning clean water to our natural water ways. Through the water treatment process, biosolids are created, a purely organic waste byproduct that can be used as fertilizer under, but more often than not, are transported at a high cost to landfills. With the Bio-CHP™, water treatment facilities can simultaneously provide energy for the treatment process and dry the biosolids to use as fuel, decrease transportation costs, or achieve the necessary quality standards for use in agricultural markets.
Food & Beverage
Enexor can partner with clients in the food and beverage industry to support overall sustainability initiatives and ultimately reduce the bottom line costs associated with steep operating expenses, and all with minimal upfront investment needed.
For example:.
Soft Drink Producers
Breweries and Alcoholic Beverage Producers
Meats and Cheeses
Packaged Foods
Modified Foods
Food Processing Facilities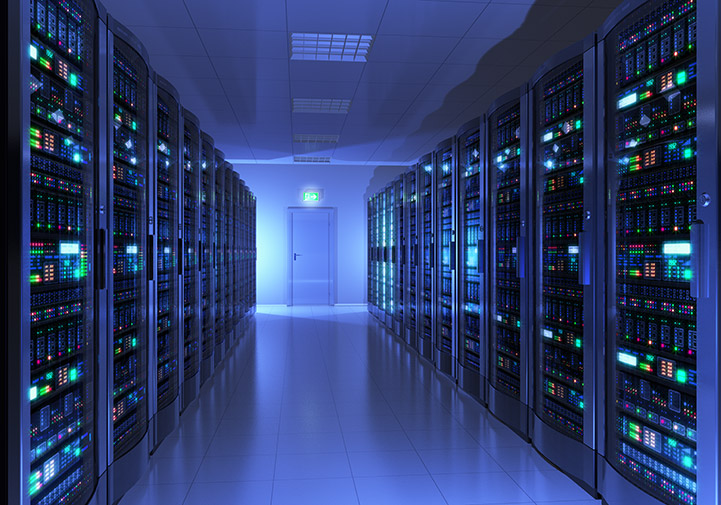 Government / Mission Critical Facilities
Specific requirements for emergency power vary based on government and mission critical facilities. The complex security and redundancy requirements for these facilities require steady electric and thermal output capable of quickly evolving with growing IoT needs. The resilience gained from the on-site solution that the Bio-CHP™ provides, coupled with a fuel source that is not variable but controllable, is an ideal solution.
These types of facilities can include:
Government Buildings
Data Centers
Prisons and Detention Facilities
Large Municipal First Responder Facilities